Hello! This is Dosukoi7 of the Miracle Attack Scan team. I wanted to say Happy 1 Year Anniversary to Akuma no Fansubs! On that note, I'd like to announce that Miracle Attack and Akuma no Fansub will be teaming up for English and French releases of Fight Ippatsu Juuden-Chan! In the future this may lead on to other series as well(maybe even anime?), but we have to start small.
Please join me in wishing AnF a very happy anniversary!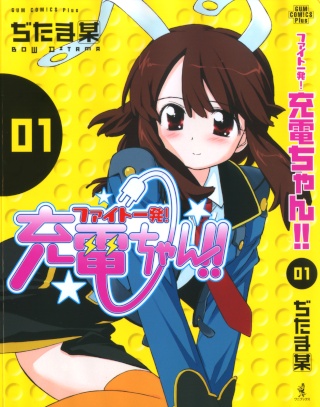 Fight Ippatsu:
Feel like your loosing energy even though you are drinking those ginseng coffee and energy drinks? Fear no more! Juuden-chan is here! Okay, so fear her a little bit… Juuden-chan is an employee in a company where no humans can see or even go to. Her job is to give those who lack highly in energy with a jolt of energy in which relates to saving people from suicide, depression, and etc. But! Not all can be saved by a jolt of energy. Juuden-chan goes through some learning curves and works at getting a better ranking at her work place. How things fall together is you to find out!
Chapter 1:
megaupload.com 1XMG1NDE
Chapter 2:
megaupload.com YVICP7W9
Chapter 3:
megaupload.com 1A3MAL5H